What follows is a marvelous suggestion from a member of the Parkinsons Recovery audience from India. She reports that lentil spouts helps offer relief from her symptoms and sent the following set of easy to follow instructions for sprouting lentils.
Germination / Sprouting of Lentil called MOONG DAL WHOLE in my country India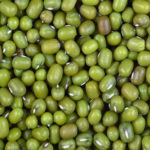 Soak 1 cup Moong Lentils overnight in water. It is enough for one person's diet for 3-4 days.
Drain the water next day & leave wet. Cover with wet cotton cloth if whether is dry. Rinse with fresh water in the evening.
Second day rinse again with fresh water twice a day morning and evening. Now u will see white roots coming out. Start consuming 5-6 teaspoons as soon as sprouting begins.
Third day rinse again with fresh water twice, the roots will be little longer. Can consume again morning and evening.
Fourth day repeat rinsing. The roots are 1  inch long.  It is the best full of healthy nutrients. Enjoy morning and evening.
Repeat again for next four days.
Raw sprouts are the best. U can steam for 5- 7 minutes for a different taste. Add finely cut onions, tomato, green chillies, coriander/cilantro, lemon/lime         juice, salt & turmeric for a different taste.
Sprouts act both as Prebiotic and Probiotic and are better than pre-probiotic capsules.
Raw sprouts are just like cashews in taste so also i enjoy them eating raw.
Please note-
Sprouts are best if consumed raw.
The best thing is they increase metabolism ( digestion and absorption) of food in our bodies with many more benefits.
Sprouts contain many good quality vitamins and minerals and in addition contain many phytonutrients unknown to me, you, dietitians and doctors.
NO SUGAR and sugar products please.
I think and am sure Sprouts will certainly make life of parkinson's patients better.
She recommends that sprouts should be taken empty stomach in the morning for better results. Eat breakfast after 2 hours if possible.
Robert Rodgers PhD
Road to Recovery from Parkinsons Disease
Https://www.parkinsonsdisease.me