Posted here is a YouTube video of a neurologist who uses light therapy in his clinic as treatment for Parkinson's symptoms and other neurological conditions. The therapy illustrated in the video is not available in most medical facilities,
I have included below information about a light therapy (or photobiomodulation) device from Vielight that is similar and can be acquired for home use.
Research Reports Light Therapy Reverses Dementia
Light therapy has floated to the top of my list as a promising treatment for dementia and Parkinson's after reviewing results of my 2018 Parkinsons Recovery holiday survey. A  surprising number of persons reported that light therapy (or photobiomodulation therapy invented by Vielight) had helped them get relief from their Parkinson's symptoms.
Here is Dr. Lim's explanation of photobiomodulation. He is the inventor of many of the  light therapy devices from Vielight.:
Light therapy is not new. It has been researched under a variety of terms for over 40 years: low level laser therapy or LLLT, laser biostimulation and most recently photobiomodulation. This noninvasive therapy has been used in clinical practices to treat healing-resistant wounds, ulcers, pain and nervous system injuries. More recently it is a therapy that has attracted the attention of researchers as a therapy for Parkinson's and dementia.
A July 2018 a University of California San Francisco study conducted by Linda Chao PhD offered compelling support for its application to treat dementia. Eight adults diagnosed with dementia participated in the study. Four subjects received 12 weeks of self-administered Photobiomodulation treatments in their homes. Four were assigned to a control group. Treatments were administered using a commercially available device (Vielight Neuro Gamma). Outcome measures were assessed at baseline, 6-weeks, and 12-weeks.
Findings revealed significant improvement in cognition and functional connectivity. Dr. Chao concluded that photobiomodulation therapy is a safe, non-pharmacological therapy that can be used to treat patients in their homes.
Results of this study are indeed impressive. Large samples are typically required for a study to show significance. Despite its small size, this study showed significant results.
Light Therapy Research Reports Encouraging Findings for Parkinson's Patients on Medications
For the past half century the "gold standard" treatment for Parkinson's disease has been to replace dopamine that is presumed deficient with medicines and supplements. Let's face it. After 50 years, these treatment protocols have shown limited efficacy and, unfortunately, can be accompanied by troubling side effects. Many who have elected these such treatment strategies have experienced an impoverished quality of life in the long run.
The challenges confronted by millions of persons with neurological challenges has motivated and inspired me to pursue investigations of other approaches that fall outside traditional treatment protocols. Â One such approach that shows initial promise is light (or photobiomodulation) therapy.
Researchers have recently found evidence that light therapy is a promising therapy for persons experiencing the symptoms of Parkinson's disease. The retina is believed to play a pivotal  role in the nigrostriatal dopamine system.  Light (obviously) passes through the eyes and shines on the retina which happens to be a close neighbor of the substantia nigra, the organ positioned in the middle of the brain.  I have drawn the logical conclusion is that – Duh – light should of course make a difference!
Light Therapy Research
A study by researchers at the Bronowski Clinic in Australia conducted a longitudinal study of 129 patients diagnosed with Parkinson's disease. Subjects who were classified as compliant – meaning they used light therapy regularly – exhibited significant improvement over subjects that were partially compliant or non-compliant.
An encouraging observation of the compliant subjects was that the drug burden was less with fewer side effects. These results suggest that light therapy shows promise as a therapy to address symptoms of Parkinson's and a therapy which might potentially reduce the role of medications to suppress symptoms.
I interviewed the inventor of a type of new photobiomodulation therapy called the Vielight Neuro Gamma device. While there is little systematic evidence that specifically addresses symptoms of Parkinson's for this particular device, it is a therapy that certainly merits further review and consideration in light of the early research evidence on the merits of light therapy. Since diffuse light does not easily pass through the skull, Dr. Lim's had the brilliant idea to pass the light through a device clipped to the nose. Now, in my book of creativity, that is inventiveness at its best!
Click the image below to hear the interview and learn more about Dr. Lim's new photobiomodulation device called the Vielight Gamma.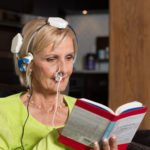 It would seem at this early stage that you cannot go wrong to be open to allow light to shine brightly on the surface of your body and of course your retina!
What has been the experience of persons with Parkinson's symptoms who have been using the Vielight Gamma Device?
Thus far, over  sixty persons who listened to my interview on the Vielight device purchased the neuro gamma device using the 10% coupon code (healing4me) Dr. Lim provided to listeners of my Parkinsons Recovery Radio Show interview. Those who acquired the device were invited to return the device to the company after using it for six months if it did not offer relief from their symptoms they were looking for and receive an 80% refund.
More information is available here:Â https://www.vielight.com
The company reported to me that 10% of the Neuro Gamma unites were returned. One loose estimate of effectiveness is that approximately 90% of users are satisfied it helps address some symptoms. The odds are certainly in your favor that the device will offer relief from symptoms. Know also that it clearly does not help everyone.
I have also heard from a member of my audience who lives in Ecuador who is connected with a wide community of persons with Parkinson's symptoms. He reports that virtually all users experienced welcome relief from some symptoms. For some, the most pronounced results were seen in the initial 4 months or so, after which the improvements tended to level off.
Anecdotal Reports about the Vielight Photobiomodulation Neuro Device as a Treatment for Parkinson's Symptoms
As a new invention. there is no systematic published research on the use of the Vielight Gamma Photobiomoduatlion device as a therapy to specifically address Parkinson's symptoms. I have heard informal feedback from users who are members of my audience that the therapy has resulted in relief of some symptoms and report below my summary observations:
One common report from users is that the therapy does not show quick results. You apparently have to apply the therapy over a period of several weeks to a month or longer to celebrate a positive shift in symptoms.
I have heard several specific reports on tremors that were calmed.
It is unclear at this point to what degree the therapy will address balance issues, but I have heard it seems to offer help with gait issues.
Evidence does suggest that this therapy can potentially help with dementia.
One user reported a definite return of smell, but the jury was out on the effect on tremors and other symptoms.
The wife of one 85 year old man with advanced Parkinson's symptoms reported that after 6 weeks of using the Vielight Neuro device. there were no major improvements but several minor ones of some consequence: Her husband reports being more alert, sleeping better, his cough is less, he has been inspired lately to use his automatic peddler and his hallucinations have dwindled. She reports it has been an answer for a better quality of life for both of them and promises to keep me updated.
Of course, it is difficult for people diagnosed with Parkinson's to attribute an improvement in symptoms directly to the Vielight photobiomodulation therapy when they are taking advantage of other therapies at the same time. Â Reports above are a general summary of the informal feedback I have received in emails and phone conversations. One person told me it did not offer them the relief they had expected and returned the unit.
Like virtually all natural therapies I have documented over the past several decades, the Vielight Neuro Gamma device will not help everyone. Odds do appear to be in your favor if you decide to try it out.
Dr. Lim has has recently developed a device called the X-Plus which delivers light directly to the mid brain. This new device is currently out of stock due to high demand.  They should be back in stock soon.
For more information, visit the Vielight website. If you decide to try out the Neuro Gamma device, be sure to tell them you are a member of the Parkinsons Recovery audience and they will apply a 10% discount when you order. https://www.vielight.com
Robert Rodgers PhD
Road to Recovery from Parkinsons Disease
https://www.parkinsonsdisease.me