Light Therapy Research Reports Encouraging Findings for Parkinson's Patients on Medications
For the past half century the "gold standard" treatment for Parkinson's disease has been to replace dopamine that is presumed deficient with medicines and supplements. Let's face it. After 50 years, these treatment protocols have shown limited efficacy and, unfortunately, can be accompanied by troubling side effects. Many who have elected these such treatment strategies have experienced an impoverished quality of life in the long run.
The challenges confronted by millions of persons with neurological challenges has motivated and inspired me to pursue investigations of other approaches that fall outside traditional treatment protocols.  One such approach that shows initial promise is light (or photobiomodulation) therapy.
Researchers have recently found evidence that light therapy is a promising therapy for persons experiencing the symptoms of Parkinson's disease. The retina is believed to play a pivotal  role in the nigrostriatal dopamine system.  Light (obviously) passes through the eyes and shines on the retina which happens to be a close neighbor of the substantia nigra, the organ positioned in the middle of the brain.  I have drawn the logical conclusion is that – Duh – light should of course make a difference!
Light Therapy Research
A study by researchers at the Bronowski Clinic in Australia conducted a longitudinal study of 129 patients diagnosed with Parkinson's disease. Subjects who were classified as compliant – meaning they used light therapy regularly – exhibited significant improvement over subjects that were partially compliant or non-compliant.
An encouraging observation of the compliant subjects was that the drug burden was less with fewer side effects. These results suggest that light therapy shows promise as a therapy to address symptoms of Parkinson's and a therapy which might potentially reduce the role of medications to suppress symptoms.
I interviewed the inventor of a type of light therapy called photobiomodulation. While there is little systematic evidence that specifically addresses symptoms of Parkinson's for this particular device, it is a therapy that certainly merits further review and consideration in light of the early research evidence on the merits of light therapy.
I have detailed this new technology on an earlier blog post with a replay of my interview with the inventor, Dr. Lew Lim.  Since diffuse light does not easily pass through the skull, Dr. Lim's had the brilliant idea to pass the light through a device clipped to the nose. Now, in my book of creativity, that is inventiveness at its best!
Click the image below to hear the interview and learn more about Dr. Lim's new photobiomodulation device called the Vielight Gamma.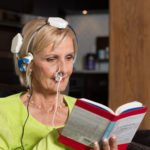 It would seem at this early stage that you cannot go wrong to be open to allow light to shine brightly on the surface of your body and of course your retina!
Robert Rodgers PhD
Road to Recovery from Parkinsons Disease
https://www.parkinsonsdisease.me
Please follow and like us: