Photobiomodulation Parkinson's Study Results Released
Finally! I have been eagerly waiting to learn results of a 3 year Australian photobiomodulation Parkinson's study that examined the impact of light therapy (using Vielight.com devices) on symptoms of persons diagnosed with Parkinson's. Results have finally been published.
Documented reductions in symptoms far exceeded my expectations. Measures of mobility, cognition, dynamic balance and fine motor skill for the 12 Parkinson's research subjects were significantly improved (p < 0.05) with photobiomodulation treatment for 12 weeks and up to one year. Many individual improvements were above the minimal clinically important difference, the threshold judged to be meaningful for participants. Individual improvements varied but many continued for up to one year with sustained home treatment.
The design of this study was eloquent. Participants were assessed for mobility, fine motor skills, balance and cognition before treatment began, after 4 weeks of treatment, after 12 weeks of treatment and the end of the home treatment period.
Researchers drew the following conclusions:
"PBM (photobiomodulation) was shown to be a safe and potentially effective treatment for a range of clinical signs and symptoms of PD. Improvements were maintained for as long as treatment continued, for up to one year in a neurodegenerative disease where decline is typically expected."
The Future of Medicine has Arrived
Click on the link below to hear my interview on Parkinsons Recovery Radio with Dr. Lew Lim, inventor of Vielight photobiomodulation devices. This interview was conducted before publication of the photobiomodulation Parkinson's study.
I predict the future of medicine rests with innovative therapies that utilize light and sound to bring the body back into balance and harmony. Neurons are cells that contain mitochondria. Photobiomodulation energizes neuronal mitochondria, triggering a cascade of beneficial cellular functions. Potential benefits are:
Neuroprotective effects.
Self-repair mechanisms and
Enhanced functionality.
Results of this photobiomodulation Parkinson's study affirm these expectations.
I predict Dr. Lim's new invention promises to set health care in new and exciting directions and has the potential to offer far reaching benefits to persons experiencing Parkinsons symptoms.
After listening to this interview, I am even more optimistic about this therapy for Parkinsons and other conditions including mental fog and dementia. Be sure to listen to my interview with Dr. Lim posted at the top of this post. I believe Dr. Lim is a true pioneer who has invented medicine of the future which uses light.
Intranasal photobiomodulation is the most efficient method for light energy to reach the brain. Different from electrical and magnetic stimulation, photobiomodulation uses light energy (or photons) of specific wave lengths and power density to simulate cellular function.
Dr. Lim is an engineer and a Doctor of Natural Medicine with additional diplomas in Medical Neuroscience and Business and Accountancy. He obtained his degrees and diplomas from the University of California at Berkeley, University of Sheffield, Duke University, Quantum University and The Chartered Institute of Management Accountants, UK.
About the Vielight Photobiomodulation Device
The company, Vielight, has generously offered followers of Parkinsons Recovery a 10% discount off orders of the the Vielight Neuro Gamma device which retails for $1749. Enter the coupon code healing4me on the shopping cart. The website: www.vielight.com
Warranty
Vielight is so confident in its new product that you get six (6) months to try out their newly invented  photobiomodulation therapy. If for any reason you are not satisfied, you can return it for a 80% refund. I have never heard of a company that is so confident in their product that such a generous warranty can be extended. They obviously have high confidence in their new invention. While there is scant evidence about its effectiveness for people who experience symptoms of Parkinson's disease, the opportunity to try it out for minimal risk is currently available.
Are Medicines or Supplements no Longer Working for You?
If the answer is yes to this question, what treatment options remain? There is, of course, Deep Brain Stimulation available as an option, but I am well aware many of you prefer not to pursue this treatment option. It is my hope and prayer that photobiomodulation therapy will become a natural option that supports the therapeutic effect of medicines and supplements such that the dosage does not have to be increased or even can be reduced under close supervision of your doctor.
I thus recommend that you consider this therapy so we can discover together whether my prediction of success is right or wrong.Can claim a 10% discount if you use the Parkinsons Recovery discount code of healing4me.
Get 6 months of use to see if it offers symptomatic relief or not.
Risk is reduced 80% since you can return the device within the 6 month period after purchase for an 80% refund of the purchase price.
Everyone in the family can use the therapy.
The Vielight company obviously has confidence in their product which is a very encouraging sign. I have never heard of any company that offered a 6 month warranty. You can purchase any of the Vielight devices from the Vielight website:
Be sure to enter the coupon code healing4me on the Vielight shopping cart to claim your Parkinsons Recovery 10% discount. Please also email me your experience with using it after a month (or longer) of use.
Research on Light Therapy from MIT
The following video previews recent research at MIT that explains why light therapy offers a promising opportunity to reverse dementia associated with a diagnosis of Alzheimer's disease.
I hope many of you will try this therapy out and let me know the result. It is not a permanent "fix" to be sure, but neither is medicine. I am attracted to this option because it is noninvasive and inexpensive over the long term when you consider it can be used for a lifetime and by all members of the household.
Photobiomodulation Mechanism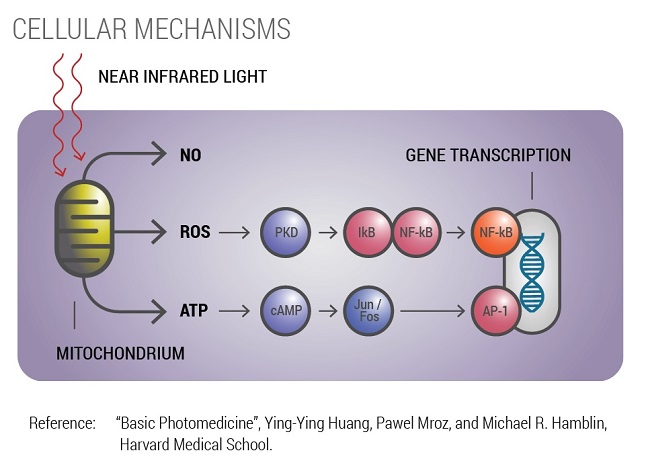 Visible red and near infrared light energy stimulates cells to generate more energy facilitating self-repair. The healing takes place within the mitochondria through an enzyme called cytochrome c oxidase. This enzyme accepts and converts the light (or photonic) energy into cellular energy (ATP) and other gene transcription factors leading to cellular repair and regeneration.
Will Photobiomodulation Therapy Interfere with My Daily Life?
No. You are welcome to receive the therapy while working, reading or doing anything really. Dr. Lim, the inventor, recommends that people with more serious health issues such as Alzheimers might be advised to do the therapy at night while going to sleep. The treatment duration lasts only 20 minutes.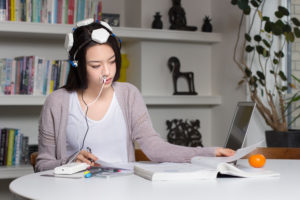 Robert Rodgers PhD
robert@parkinsonsrecovery.com
Olympia Washington
Parkinsons Recovery
Road to Recovery from Parkinsons Disease
877-526-4646
What follows is an email I have permission to post regarding the photobiomodulation gamma device from Vielight. As with any therapy, do your due diligence in deciding whether this therapy is right for you.
"I want to let you know my wife's experience so far with the Vielight gamma device.
We received the device on 1/25/18 and started using the device per Dr. Lim's instructions 6 days on 1 day off. It took about 3 weeks to start seeing benefits. The benefits have been clearer head, more confident, better balance(hasn't fallen since 1/15/18 with prior multiple falls weekly), better gait, much less threshold challenges, and has been able to reduce medication by about a third.
A little history about my wife, she has had Parkinson's since 1995. Per her neurologist as of May 2017 she was level 4 with the disease ready for wheel chair. In June 2017 we began our journey with hrhyperbaric.com here in Norfolk, Va. She completed 40 dives, which basically gave her her life back. It was the best money we have ever spent on her treatment. You can see her video on their website.
After the last month of the vielight, we have experienced an extension of the benefits similar to HBOT but the Vielight has done more overall and at this point is much better investment.
Thanks again for getting the word out on Vielight. Please feel free to use this information to help others."
Respectfully,
Gordon Glover
[ghgmtg@gmail.com]