When anxiety flares up, symptoms always get worse. One of the best ways to sooth symptoms is to identify ways to get anxiety under control in the moment. This shifts the focus away from ways to suppress symptoms temporarily and embrace ways to reverse symptoms when they are most problematic.    
I document proven techniques to Halt  Anxiety in a book that is available as a download and as a paperback. This has been a work in progress for many months which is at long last complete.
My book introduces simple techniques that calm anxiety and reduce stress when they are most needed. The techniques:
Are simple to implement
Can be accessed anywhere, anytime in any situation.
Cost nothing
Reduce anxiety
Calm stress 
Help reduce the severity of symptoms
Click below to order the download of Halt Anxiety which will be sent immediately to your computer or phone.
Click the book cover below to order the paperback ($10):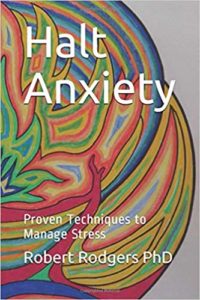 Robert Rodgers PhD
Founder 2004
Parkinsons Recovery 
Olympia Washington
Road to Recovery from Parkinsons Disease|
https://www.parkinsonsdisease.me
877-526-4646
[