Isn't this an interesting image? You probably already guessed that it does not originate from this century or even the last century.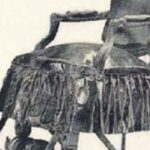 This is an image of the vibration chair that was designed and built by Dr. Charcot in 1892. Why in the world did this early neurologist invent such a contraption?
Dr. Charcot observed that the severity of his patient's symptoms appeared to be function of the transportation they used to come to his clinic. Patients who came by carriage or train appeared to have fewer symptoms overall. Those who traveled by other means were much worse overall.
He hypothesized that the difference was linked to vibration. This observation inspired him to invent a chair that vibrated his patients.
Dr. Charot's research was lost when he died in 1893 and was not picked up until recently. Recent research has confirmed his initial suspicion:
Vibration does provide relief from the symptoms of Parkinson's disease.
Some physical therapists and other medical care practitioners offer vibration therapy to their patients. And some physical exercise facilities do the same.
I suggest you shake, rattle and role whenever you get the chance however you can make that happen.
Here is a source of affordable vibration devices: https://www.powerplate.com/zph